Tips for Travelling with Hearing Aids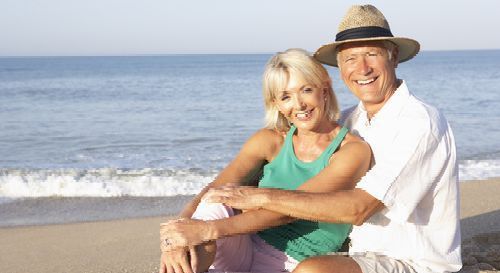 Whether you're a snowbird heading south for the season or simply looking for a brief winter getaway, if you're new to wearing hearing aids, you may wonder what special considerations you need to take when you travel.
Here's a quick guide to travelling with your hearing device.
What to Pack
There are a few essentials you should bring with you when you go abroad, including:
Extra batteries for your hearing aid. Use a battery caddy or get a new blister pack. You're legally permitted to store them in your carry-on luggage.
Cleaning tools, to keep your hearing aid in good condition while you're away from home.
A dry aid kit, especially if you'll be travelling someplace with high levels of humidity. Dry aid kits are basically small jars with a drying agent that will pull moisture out of the hearing aid and prevent it from getting damaged.
Airport Security
If you've never traveled with hearing aids, it may be unclear whether or not you can wear your device while passing through the security check. The good news is, when travelling in North America, you can indeed wear them without issue. However, you may wish to notify the security agent of your situation, as wearing hearing aids is likely to cause anomalies when you pass through the scanner. X-rays and metal detectors won't damage hearing aids. Nevertheless, most people choose to turn down the volume on their device when being scanned, as a certain amount of sound distortion is likely to occur.
When Flying
Changes in air pressure won't affect hearing aids, so you can safely wear them while flying. In fact, you'd be well advised to keep them on so as not to miss important announcements during your flight. The only stipulation is that those who have an FM assistive listening device on their hearing aids will need to turn it off during the flight. This frequency can interfere with the plane's navigation system.
Some people do find the noise on airplanes bothersome, and elect to turn down the volume on their hearing aids. Alternatively, some devices come equipped with a noise-reduction program and this can be a good option while you're in the air. If you do take out your hearing aids during your flight, be sure to safely put them away in your carry-on luggage, so as not to accidentally forget them on the plane.
Ensuring your Hearing Aids are Working
If you're experiencing any difficulties with your hearing aids (not loud enough, inconsistent performance, unclear or distorted sounds, etc.), it's a good idea to get them checked by an audiologist or hearing aid technician before you travel. Soundwave Hearing Care has audiology clinics in Calgary, Grande Prairie, High River and Lethbridge. Make an appointment with us before your trip to guarantee you won't miss a single moment of your winter getaway.
All the blogs are reviewed and edited by our clinic's lead audiologist, Dr. Anne Wooliams. Dr. Woolliams is an experienced audiologist specialized in pediatric audiology, auditory processing, and tinnitus/sound sensitivity therapy. She is dedicated to providing top-notch hearing care and helping her clients improve their language and communication abilities. Dr. Woolliams' expertise in literature and linguistics, combined with her passion for helping people improve their language and communication, make her an incredibly valuable asset in the field of audiology. Learn more about Dr. Woolliams.