Hearing Aid and Audiology
Today's technology means that you have a wide range of options available to help with hearing loss. Hearing aid users report greater involvement in social activities, fewer worries and more positive social and family experiences than those who have unmanaged hearing loss. Our Calgary hearing aid and audiology services focus on improving not only your hearing but also your overall quality of life.
Hearing aids vary in style, size and level of technology. Your Soundwave Hearing Care Audiologist or Hearing Aid Practitioner carefully makes recommendations for hearing aids by balancing your degree of hearing loss, lifestyle, personal goals, sound quality, cosmetics and budget.
The need for one or two hearing aids is determined by you and your Audiologist or Hearing Aid Practitioner. Hearing devices in Grande Prairie and the surrounding area often are custom molded to fit your specific needs. For most people with hearing loss, binaural amplification (two ears) offers substantial improvement under both quiet and noisy conditions, along with a better sense of direction for locating sound sources.
Types of Hearing Aids
Whether you live an active lifestyle or move at a more leisurely pace, improving your hearing can help you interact with others and your environment. Our hearing aid and audiology services specialize in all types of hearing aids. Soundwave Hearing Care invites you to explore which technology is the best fit for your type of hearing loss and personal needs.
Rechargeable hearing aids
At Soundwave Hearing Care, we carry several top brands of rechargeable hearing aids, including ReSound, Starkey and Phonak. Our rechargeable hearing aids come in a variety of styles, including ones that sit completely in your ear. We have several discreet and easy-to-use models that provide superior sound quality and are equipped with several smart features for an individualized sound experience.
The battery is built into the hearing aids, so you don't have to struggle to change them. All you need to do is pop them into their custom charger. In addition, their long battery life means you don't have to worry about your hearing aids suddenly running out of power.
Furthermore, if you have moderate to severe hearing loss, you can pair your rechargeable hearing aids with one of our assisted listening devices (ALDs). We carry remote microphone (RM) systems that use digital wireless transmitters to deliver speech signals to your ears, which can help you hear better in noisy situations.
We also have simple remote microphones and sound processors to help you hear better over long distances. These devices also allow you to wirelessly stream audio from your smartphone, TV, stereo or computer directly to your hearing aids.
A Hearing Aid for Your Needs
At Soundwave Hearing Care, our hearing clinic provides a range of hearing aids, and we work carefully with you to provide you with the most appropriate hearing device in Calgary for your lifestyle, age and hearing needs.
Your choice of hearing devices has improved as hearing aid technology has advanced over the years. If you are looking for a less visible and more compact hearing aid in Calgary, we can offer types that fit discreetly in your ear or are entirely invisible in your ear canal.
Do you need extra help hearing others speak at a noisy workplace, school or various public spaces? Do you miss being able to clearly hear the radio, television or streaming videos? Schedule a consultation with our Hearing Aid Practitioner about assistive listening devices that work with or without hearing aids.
Reasons for Wearing Hearing Aids

Enjoy a restaurant
Hear the birds
Listen to music
Get the joke
Hear the phone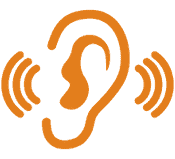 Hear in meetings
Stream my music
Enjoy going out
Working is easier
Hear the laughter

Hear my family
Talk in the car
Feel confident
Hear the waves
Lead conversations
Calgary Hearing Aid and Audiology Services
Soundwave Hearing Care's Audiologists are specialized in the unique skill of infants' and children's hearing aid and personal FM system fittings, making us one of the few clinics offering this service in Western Canada.
Our supportive and fun audiology team works together with you and your children so that hearing aids are a life-long, positive experience. With complete hearing tests and evaluations, our team works together so we can identify your type of hearing loss in order to fit you with the most appropriate hearing device.
For hearing aids in Calgary, Lethbridge, High River and Grande Prairie, choose Soundwave Hearing Care.