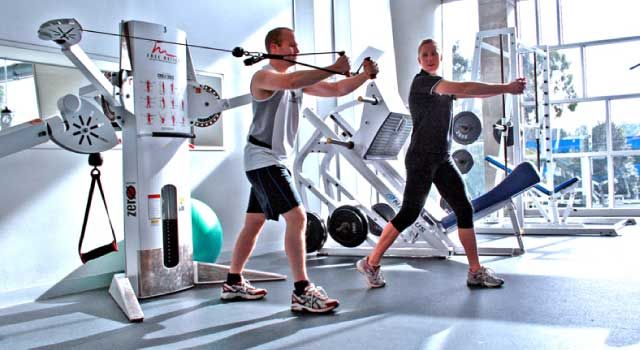 Our world continues to change for the positive as we learn to celebrate out differences rather than remain victims of locker room bullying and public shaming over a host of personal attributes, including hearing loss. Today hearing aides are compact with advanced services like wireless media streaming.
If you don't wear your hearing aids when you're playing your favorite sport or working out at the gym, maybe you should reconsider. For example, Canadian Steve Downie, a professional athletes with the Pittsburgh Penguins, appreciates the major difference that having a hearing aid makes. Hearing aids have incredible benefits, and if people ask about them at the gym, don't be afraid to pause your workout and tell them all about what you hearing aids can do. More often than not you'll get those are actually pretty cool, along with more confidence, and a lot of respect as well.
At Soundwave Hearing Care, an Audiologist or Hearing Aid Practitioner carefully makes recommendations for hearing aids by balancing your degree of hearing loss, lifestyle, personal goals, sound quality, cosmetics, and budget. Hearing aids are available in a variety of styles, sizes, and levels of technology with users report greater involvement in social activities, fewer worries, and more positive social and family experiences than those who have uncorrected hearing loss.
Today's hearing aids can be expensive, but are more robust and resistant to dust and moisture than in the past. With a little care and preparation, there's no reason you can't wear them during workouts and competitions. Here's a few reasons why:
Increased ability to communicate – it's important to be able to communicate with the other players on the field, court or at the gym.
Personal safety – outdoors to hear sirens and approaching vehicles, and in the gym to interact with your gym buddies and safely operate the equipment.
Your favorite tunes – hearing aids today offer wireless functionality that helps you connect effortlessly via Bluetooth technology to your MP3 player to stream music right through your hearing aids.
A 2012 global study conducted by Hear the World Foundation revealed that 70 percent of hearing aid wearers say they wear their devices during sporting activities without a problem. Wearing hearing aids also makes sports more enjoyable according to 37 percent of users.
If you have specific questions about wearing your hearing aids during your favorite sports or hobbies, Soundwave Hearing Care's team of caring Audiologists and Hearing Aid Practitioners will listen to all of your concerns and find a solution that works best for you. For hearing aids in Calgary, Lethbridge, High River and Grande Prairie, contact Soundwave Hearing Care at 403-270-7425 to schedule an appointment today.
All the blogs are reviewed and edited by our clinic's lead audiologist, Dr. Anne Wooliams. Dr. Woolliams is an experienced audiologist specialized in pediatric audiology, auditory processing, and tinnitus/sound sensitivity therapy. She is dedicated to providing top-notch hearing care and helping her clients improve their language and communication abilities. Dr. Woolliams' expertise in literature and linguistics, combined with her passion for helping people improve their language and communication, make her an incredibly valuable asset in the field of audiology. Learn more about Dr. Woolliams.