Helping Children with Hearing Loss to Listen and Learn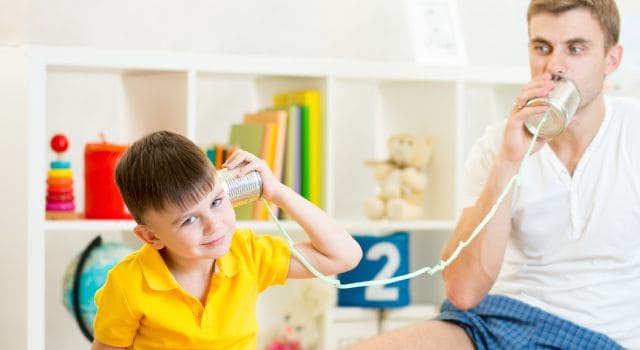 A child with auditory processing disorder (APD) does not have the same auditory processing skills as a normal child.
Children with APD cannot recognize a word's multiple meanings and they have difficulty understanding language during a conversation. If something is meant to be funny or as a pun, a child with APD may have difficulty distinguishing that during normal conversation. That is because a child with APD lacks metalinguistic skills.
Just because a child has APD does not mean they will never engage in normal conversation or even understand a joke in their lives; they just need to be taught how to listen and learn.
Tips for Helping Your Child with APD
Whether your child is already in school or preparing for it, there are things you can do to help them with their educational and social skills.
– Make sure your child has preferred seating at school. Your child should have a seat that offers a vantage point for hearing and seeing the teacher. This typically means the front of the classroom. The goal is to minimize as much interference between the teacher's voice and your child's hearing.
– When speaking, emphasize keywords. Help your child's understanding of what you are saying by using intonation and slower speech; and always emphasize the words that are most important. Slow your rate of speech so that your child has time to understand what you are saying.
– Use visual cues. This helps at home and in the classroom. Visual cues can give your child a better understanding of what they are hearing and convey important information that may be lost orally.
– Meet with a coach. APD is a difficult condition for children and parents alike, which is why a parenting coach may be a useful tool. A coach can help your child and you through the emotional and social challenges that come along with APD.
– Utilize assistive technology. You can help your child with their reading and listening problems by using apps on devices and even looking into hearing aids to improve your child's hearing.
Visit a Hearing Clinic in Calgary for Assistance
Auditory processing disorder is not always accurately diagnosed. If you think your child is suffering from APD, have their hearing tested by a professional. Once your child has been diagnosed, entering them into a therapy program can help resolve or compensate for the APD, thus improving their chances of a normal, healthy life.
Soundwave Hearing Care's hearing clinic in Calgary offers APD assessments and we have tailor-made therapy programs that help children lead rewarding lives, communicate more efficiently and function better in school as well as employment. Contact us online or visit one of our convenient locations.
All the blogs are reviewed and edited by our clinic's lead audiologist, Dr. Anne Wooliams. Dr. Woolliams is an experienced audiologist specialized in pediatric audiology, auditory processing, and tinnitus/sound sensitivity therapy. She is dedicated to providing top-notch hearing care and helping her clients improve their language and communication abilities. Dr. Woolliams' expertise in literature and linguistics, combined with her passion for helping people improve their language and communication, make her an incredibly valuable asset in the field of audiology. Learn more about Dr. Woolliams.