A Parent's Guide To The Early Hearing Detection And Intervention Program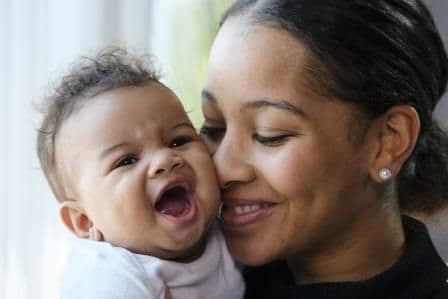 All babies born in Alberta or whose parents reside in the province are eligible for a hearing screening within 90 days of birth.
This free service is part of the Early Hearing Detection and Intervention (EHDI) program offered by Alberta Health Services. Here's what expecting and new parents should know about the program.
WHAT'S THE PURPOSE OF THE PROGRAM?
The EHDI program is designed to ensure early diagnosis and support for babies with permanent hearing loss. This greatly improves language and learning outcomes for children with a hearing impairment. Although screenings are available within 90 days of birth, Alberta Health Services recommends that babies be screened by one month old.
WHY SHOULD I HAVE MY BABY SCREENED?
Congenital hearing loss is a common condition, but without a proper hearing test it can easily go undetected. In part, this is because permanent hearing loss often occurs in babies who are otherwise healthy and don't have a family history of hearing impairment. If hearing loss isn't detected early, there's a high risk that the child will have developmental problems with speech, memory, language and social skills.
WHERE ARE SCREENINGS OFFERED?
Hearing screenings for newborns are offered at numerous locations across the province. The service is available at most hospitals for inpatients in newborn and postpartum care units. Appointments can also be made at one of several community-based sites across Alberta.
WHAT DOES A SCREENING ENTAIL?
The two tests used to screen newborns for hearing loss are safe and painless. They can even be conducted while your baby is asleep. For both tests, a healthcare professional places a small device in the infant's ear that plays quiet sounds. A computer measures how their ear, particularly the cochlea, responds to the sound. The second test uses a similar procedure, with additional sensors placed on the baby's head and neck to record their auditory nerve response.
WHAT IF MY BABY DOESN'T PASS?
If your child receives a refer result, which means they didn't pass the screening, a more specialized follow-up test will be scheduled to confirm or rule out hearing loss. This test, known as a diagnostic auditory brainstem response (ABR) test, is conducted by a pediatric audiologist while your baby is asleep. The procedure is similar to the screening, but it involves more sensors. You'll usually receive the results on the same day and, if they indicate permanent hearing loss, your audiologist will recommend the best course of action.
WHAT IF MY CHILD NEEDS HEARING AIDS?
If your baby is diagnosed with permanent hearing loss following a diagnostic ABR test, Soundwave Hearing Care can help. In the Grande Prairie and Lethbridge areas, one of our audiologists will fit your baby with an assistive listening device or hearing aids that support their needs. In the Calgary and High River area, Alberta Health Services supplies children with hearings aids until the age of five, after which time you can visit our audiology clinic in Calgary. To schedule an appointment in Calgary, Grande Prairie, High River or Lethbridge, contact us today.
All the blogs are reviewed and edited by our clinic's lead audiologist, Dr. Anne Wooliams. Dr. Woolliams is an experienced audiologist specialized in pediatric audiology, auditory processing, and tinnitus/sound sensitivity therapy. She is dedicated to providing top-notch hearing care and helping her clients improve their language and communication abilities. Dr. Woolliams' expertise in literature and linguistics, combined with her passion for helping people improve their language and communication, make her an incredibly valuable asset in the field of audiology. Learn more about Dr. Woolliams.