New: Starkey Releases Livio AI in September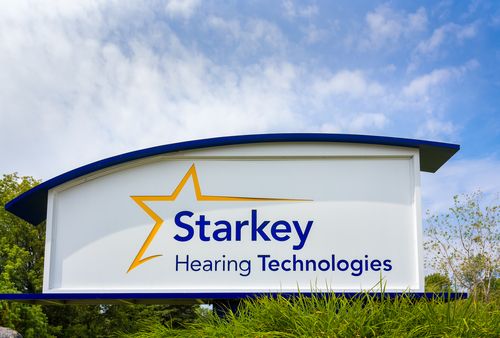 Starkey has created a revolution in hearing technology with the launch of its newest hearing aid, Livio AI, the first listening device with artificial intelligence (AI) and integrated sensors.
The hearing aids of the past are being replaced with '93hearables'94'97listening devices that do more than just amplify and clarify sounds. Available in Calgary in September, this new hearing aid will shape the future of listening devices, and the audiology experts at Soundwave Hearing Care are excited to tell you more about it.
Livio AI does more than allow you to hear well in a world of noise
Besides the superior hearing technology you've come to expect from Starkey hearing devices, the Livio AI offers many new enhancements when used with the corresponding smartphone app, Thrive.Here's an overview of what you can expect from your new hearing device:
Track physical and mental activity
The sensors in the earpieces track your physical activity and upload the data to the app. Thrive also tracks your levels of social engagement and active listening throughout the day to show how your brain benefits from using a hearing aid. These two measurements are combined to give you an assessment of your overall wellbeing, the Thrive Wellness Score. You can use this information to monitor or improve your physical and mental health.
Translate in real time
The app also provides real-time translation for 27 languages, making travel easier. It allows you to communicate with people by speaking into your phone and having it translate your words into another language. When a response is translated back into your original language, the app streams the words to your hearing aid.
Easy adjustments
Through the app you can request adjustments, which a hearing professional can perform remotely, without an appointment. You'll also be able to adjust many settings yourself to suit your preferences in different listening environments.
The potential uses of hearing devices like the Livia AI are exciting. The sensors in these devices will be able to alert emergency services if the wearer has an accident or a fall. In the future, they'll not only monitor your activity levels but also conduct diagnostic tests. The AI technology will one day be able to provide responses to voice commands and provide more natural real time language translation. Eventually, hearing aids won't just be for the hearing impaired'97they'll be an integral part of how we monitor our health. You can learn more about overcoming the stigma surrounding hearing aids here.
If you have questions about this cutting-edge hearing aid technology, talk to an audiologist at Soundwave Hearing Care clinic. Our experienced professionals are happy to help people with hearing impairment find the right device for them. We have five locations in Calgary and Grande Prairie that serve people all around Alberta. Call the clinic closest to you to make an appointment.
All the blogs are reviewed and edited by our clinic's lead audiologist, Dr. Anne Wooliams. Dr. Woolliams is an experienced audiologist specialized in pediatric audiology, auditory processing, and tinnitus/sound sensitivity therapy. She is dedicated to providing top-notch hearing care and helping her clients improve their language and communication abilities. Dr. Woolliams' expertise in literature and linguistics, combined with her passion for helping people improve their language and communication, make her an incredibly valuable asset in the field of audiology. Learn more about Dr. Woolliams.