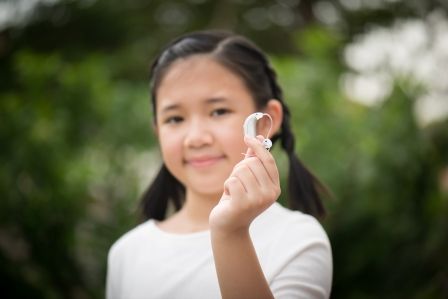 Thanks to pediatric hearing aids, children with hearing impairments can better access conversations with family members and gain the confidence to participate in dynamic classroom settings. By taking into account the needs of young children, Phonak produces some of the best pediatric hearing aids out there.
Kid-friendly
Kids should get the chance to be kids and Phonak does its best to facilitate this by making pediatric hearing aids that can handle days full of adventures. These hearing aids are durable, so they won't break when they're inevitably dropped. They're also considered tamperproof for children up to 36 months old, so you don't have to worry about your little one getting curious and pulling apart their hearing aid.
Waterproof and Dust Resistant
Phonak hearing aids are also waterproof and dust tight, which is perfect for kids that love to get out there and get messy. Your kid will never have to miss out on playtime because of their hearing aid and you won't have to worry about the elements doing any damage.
Easy to Use
One of the best features these hearing aids have is how easy they are to use. Your child will quickly learn how their hearing aid functions, which will help them feel more confident and independent.
Customizable Colours
Get your child excited about their new hearing aid by letting them choose one or more colours for it. They'll get to select a colour for both the hearing aid and the hook and can mix and match as they please. Letting your kid pick out colours helps them feel more involved in the process of getting their hearing aid. Plus, if it's in their favourite colours, they'll be more likely to want to wear it.
All-day Comfort
Phonak hearing aids are designed to be worn all day long and as thereby provide peak comfort. Your child won't get annoyed and try to remove it. In fact, they'll barely even notice they're wearing it. This way, kids can focus on interacting with others and starting conversations, instead of being distracted by their hearing aid or not being able to hear what's going on.
Find Hearing Aids for Children in Calgary
Our team at Soundwave Hearing Care knows just how important hearing is for children's social, intellectual and language development. That's why we offer pediatric hearing care for children of all ages. Contact us today to book your child's next hearing test!
All the blogs are reviewed and edited by our clinic's lead audiologist, Dr. Anne Wooliams. Dr. Woolliams is an experienced audiologist specialized in pediatric audiology, auditory processing, and tinnitus/sound sensitivity therapy. She is dedicated to providing top-notch hearing care and helping her clients improve their language and communication abilities. Dr. Woolliams' expertise in literature and linguistics, combined with her passion for helping people improve their language and communication, make her an incredibly valuable asset in the field of audiology. Learn more about Dr. Woolliams.