Speech And Hearing Month: Communication At Work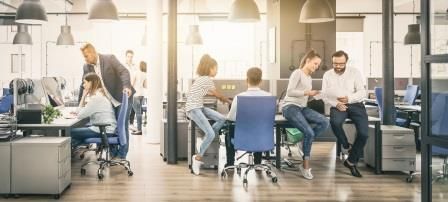 Speech and Hearing Month, which occurs annually in May, is an opportunity to raise awareness about communication disorders and the importance of early hearing screening and intervention.
This year, Speech-Language and Audiology Canada has selected the theme Communication at Work to address specific challenges experienced by people with a communication disorder in the workplace.
BARRIERS TO EFFECTIVE COMMUNICATION
A safe and productive work environment depends heavily on each person's ability to communicate effectively with those around them. There are seven types of barriers that can obstruct communication in the workplace.
Physical barriers (closed doors, walls and multiple office locations that divide staff)
Perceptual barriers (assumptions and preconceived ideas about others)
Emotional barriers (anger, pride and anxiety, which can affect judgement)
Cultural barriers (a lack of respect or understanding of cultural sensitivities and differences)
Language barriers (speaking different languages, speech impediments and hearing loss)
Gender barriers (a lack of respect and varying communication styles between genders)
Interpersonal barriers (low self-esteem and difficulty connecting with others)
The first step to breaking down barriers to effective communication is to acknowledge their presence in the workplace. If you work with someone who has a communication disorder, for example, it's important to make an effort to understand their condition and discuss strategies to accommodate them.
COMMUNICATION AND HEARING LOSS
Whether you're interacting with an employee, colleague or client who has a hearing impairment, there are several steps you can take to accommodate them and facilitate communication. Face the person, speak clearly, pause briefly between sentences and provide important information in writing. You should also carry out conversations in a quiet environment whenever possible.
WORKPLACE HEARING SERVICES
Soundwave Hearing Care provides custom workplace hearing services including assessments, screenings and hearing loss prevention seminars. We also offer hearing tests for children, adults and seniors. If you have listening difficulties or hearing loss, our experienced team of audiologists and hearing aid practitioners will ensure you're fitted with hearing aids that support your specific needs. For more information or to schedule an appointment with an audiologist, contact us today or visit one of our clinics in Calgary, Grande Prairie, High River or Lethbridge.
All the blogs are reviewed and edited by our clinic's lead audiologist, Dr. Anne Wooliams. Dr. Woolliams is an experienced audiologist specialized in pediatric audiology, auditory processing, and tinnitus/sound sensitivity therapy. She is dedicated to providing top-notch hearing care and helping her clients improve their language and communication abilities. Dr. Woolliams' expertise in literature and linguistics, combined with her passion for helping people improve their language and communication, make her an incredibly valuable asset in the field of audiology. Learn more about Dr. Woolliams.